---
Trowbridge Connections 2 - Christopher Benjamin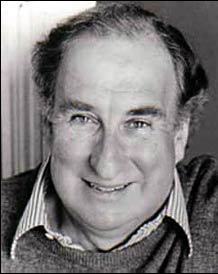 Benjamin was born in Trowbridge, 27th December 1934. A longtime member of the Royal Shakespeare Company, he has won acclaim for his performances in the big comic character parts like Bottom and Dogberry, but also for his classical work in plays such as Hamlet, King Lear, and Julius Caesar. But his appearance on two episodes of the cult TV series Dr. Who in the 1970s has been enough to gain him immortality in the eyes of the show's international following of diehard fans.
Christopher's father owned a music shop in Trowbridge, Wiltshire, where Christopher was born on December 27th, 1934. He got his first taste of acting at Lord Weymouth's Grammar School in Warminster when the headmaster's wife cast him in a school production of Eliot's "Murder in the Cathedral". After leaving Lord Weymouth's he went to the Royal Academy of Dramatic Art on a Wiltshire County Council scholarship and then embarked on a stage career. From 1960 to 1962 Benjamin was a member of Reggie Salberg's company at the Salisbury Playhouse. In his two years at Salisbury, Benjamin played 43 different parts, and got his first taste of Shakespeare, playing such major roles as Falstaff and Othello.
---
Click on the item to go to the article.

We would like to express our sympathy to Mike Johnson whose wife Irene died on 2nd May.

Our cover picture shows Trowbridge Barracks in Frome Road and the statue of a soldier on top of the war memorial in Trowbridge Park. During the First World War, which began 100 years ago this year, many soldiers were based in the barracks before leaving for France.

One such was Edward Thomas and we have an article about this poet who had other connections with this area.

In our Autumn issue we want to continue the WW1 theme and would like to feature stories, pictures of mementoes, photos of soldiers and any other souvenirs that you might have.

Please contact the editorial team or any of the committee if you can help. And finally, congratulations to Glyn Bridges, our chairman, who has become Mayor of Trowbridge for the third time!
---
ADVERTISEMENT

Roger Newman has published the latest book in the 'Yellow' book series. 'Cast Iron Street Furniture and Business Names' looks at iron work such as sewer coves, fire hydrants, rain gulleys, stop cocks, sewer vents etc which can be found in Trowbridge together with a profile of the companies whose names can be found moulded in the iron work. Priced £8. It is available from Roger Newman 01225 762337 or at The Museum.

Forthcoming Events

12th July Coffee morning and bring and buy. 10 - 12 noon at 4 Alma Street, Trowbridge
14th August Trip to Shaftesbury and Wimborne
13th September Heritage Open Day
21st October Contemporary Heritage Protection in Bath - Ian Lund.
25th November Public Lecture - Trowbridge Barracks Project - Neil Ashley.
13th January New Year Social with quiz
17th March AGM and Talk.
All indoor meetings in Haden Room, Church Street, Trowbridge, 7.30 pm
---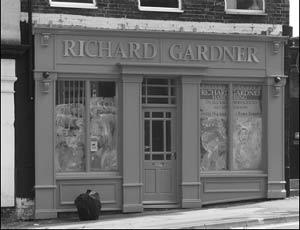 What a difference a façade makes! Have you noticed the new shop front on the building at the corner of Bythesea Road and Stallard Street? The original shop front was taken down some years ago when the building was converted into flats and what a dismal, ugly conversion it was with no saving graces at all. The new owner must be congratulated on the refurbishment of the building with its sympathetically created new shop front. We need more people like this who care about the visual environment within the town. If we were still giving Town Enhancement Awards I think the developer would be on the top of my list.
New members may not know that it was the Civic Society which began giving Town Enhancement Awards, this we did for quite a number of years until the idea was copied by the Town Council and so we decided not to continue with our award.
---
The majority of planning decisions these days tend to be approved, often with conditions but since the last newsletter a couple of applications that may interest members have been refused. The conversion of part of the ground floor area of 46-47 Church Street to a one bedroom flat has been refused "because of its siting in close proximity and at a level below the nightclub situated on the first floor to the host building, and would be likely to be exposed to noise from music and entertainment, as well as disturbance from nightclub patrons leaving the premise at closing time. This would result in an impact on the amenity of future occupants". Also getting the thumbs down was an application to erect 15 dwellings on land South of Devizes Road Hilperton. The planning officer gave the following grounds for refusal.
The development site is located outside of the village policy limits for Hilperton and is not a scheme for 100% affordable housing or agricultural/forestry essential workers. The proposal is therefore not in accordance with the Wiltshire Core Strategy.
Due to the limited services and facilities within Hilperton the village is not considered to be a sustainable location sufficient to accommodate the growth in size of 15 dwellings outside of the settlement boundaries, as this would put an increased pressure on existing facilities and services within the village and would encourage the use of the private car for out commuting to Trowbridge to access services and facilities. The proposal is therefore, contrary to the aims and objectives of the NPPF where the presumption is in favour of sustainable development.
It is considered that the proposed scheme would have an adverse impact on the character of the area which forms a green gap outside of the settlement limits that allows for 'old' Hilperton to retain its character as a separate area to Paxcroft Mead and as such is not in accordance with the West Wiltshire District Plan.
This outcome will very likely be a matter for celebration in many households in Hilperton and Trowbridge.
Now some positive decisions. Approval has been granted for the redevelopment of a vehicle sales premises to provide six two-storey houses arranged in two terraces fronting Union Street. The design and materials of the proposed houses are in keeping with other recent developments in the area and should enhance its character and appearance.
1 High Street, Semington, a listed building, is prone to flooding and permission has been granted for a flood defence, which would appear as a low garden wall faced with natural stone to match the house and existing walls in the grounds.
Finally, Mcdonalds Restaurant has been given permission to reconfigure the "drive thru" lane to provide a side-by-side order point, incorporating a new island for signage and reconfigured kerb lines. One tree is to be removed with the planting of a new one. It's always nice to end on a positive note!
---
| | |
| --- | --- |
| Edward Thomas and Trowbridge | |
Edward Thomas is perhaps best known for his poem Addlestrop which describes the English countryside as a train waits at the station one hot summer's afternoon. It ends:
And for that minute a blackbird sang
Close by, and round him, mistier,
Farther and farther, all the birds
Of Oxfordshire and Gloucestershire.
I first realised that Edward Thomas knew West Wiltshire when I read In Pursuit of Spring, written in the spring of 1913. It describes a cycle ride from London to the Quantocks and author describes wandering the lanes around Trowbridge.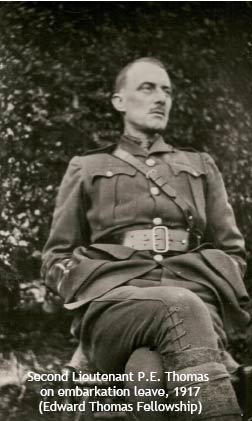 Recently I read Now all roads lead to France by Matthew Hollis and discovered that he was more closely connected to the area than I first thought. Another invaluable book about Thomas and Wiltshire is Figures in a Wiltshire Scene by Ken Watts.
In 1911 Thomas had become friendly with the writer Clifford Bax, (13 July 1886 - 18 November 1962) a versatile English writer, known particularly as a playwright, a journalist, critic and editor, and a poet, lyricist and hymn writer. The composer Arnold Bax was his brother. Bax was living in Broughton Gifford Manor house. While he was staying there, Thomas became friends with Eleanor Farjeon who later became famous as a writer of children's stories. She had a very close relationship with Thomas and his family. Thomas eventually became a member of Bax's Old Broughtonian cricket team and played several matches in the area, batting at number eleven. In 1912 Thomas took rooms in Dillybrook Farm near Southwick, recovering from a nervous breakdown where he discovered Tellisford.
In his In pursuit of spring he describes Tellisford as:
" … a hamlet scattered along a half a mile of by-road from a church at the corner down to the Frome. Once there was a ford, but now you cross by a stone footbridge with white wooden handrails. A ruined flock-mill and a ruined ancient house stand next to it on one side: on the other the only house is a farm with a round tower embodied in its front. Away from that farm a beautiful meadow slopes between the river and the woods above."
At one time Walter de la Mare visited him at Dillybrook and they both sat beside the weir at Tellisford.
Other places described in this book include Road (Rode) and Rudge with its several ruins and the Half Moon inn. He describes children picking primroses walking along the lane towards Seymour's Court Farm with the "teams pulling chain harrows and peewits plunging round them." He cycles past Cutteridge with the "long avenues of limes, crooked and often as dense as a magpie's nest". These limes were standing until a few years ago. There is also a long description of Brook House and its farm. The afternoon he is there "It was the very weather that Trowbridge people needed on Good Friday for a walk to Farleigh Castle for beer or tea and watercress at the Hungerford Arms. As I bicycled into Trowbridge at four o'clock the inhabitants were streaming out along the dry road westward… But I did not stop in Trowbridge. Its twenty chimneys were as tranquil as its tall spire, and its slaughterhouse as silent as the adjacent church." He passes Hilperton and the Lion and Fiddle goes past the Phoenix "Swiss&rdquo Milk Factory at Staverton and describes the little James Wyatt church there. The whole chapter is worth reading to compare what he saw with what the the area looks like today. Later he cycles past Farleigh Castle on his way to Shepton Mallet.
The purpose of his cycle ride was to make money. He was commissioned to write a 300 page book about the journey at a time when such books were in vogue. Although he felt he was trapped by this kind of work it contains some wonderful descriptions of the countryside and nature.
In 1914 he became friends with the American poet Robert Frost who encouraged him in his writing and especially his poetry which he had begun to write. Frost encouraged him to move to America but he could not make up his mind and he made the fatal decision to enlist. He was passed medically fit in July 1915 and he joined the Artists Rifles - as Wilfred Owen did two months later. In August 1916 Thomas was commissioned in the Royal Garrison Artillery and on September 20 his unit was sent to the Royal Artillery Barracks at Trowbridge. While there he had two days' walking through the fields to Dillybrook Farm and to Bradford on Avon. While in Trowbridge he composed "Lights Out". After a fortnight's leave Thomas was sent to Lydd in Kent for further training. He was unexpectedly given Christmas leave with his family, before arriving on January 15, 1917 at the mobilisation camp at Codford on Salisbury Plain. On January 29 he wrote to his wife from Southampton saying that once "over there" he would "say no more goodbyes … "
On Easter Monday (April 9) 1917, the Battle of Arras opened with a huge artillery bombardment. At 7.36 am Edward Thomas, who was directing the fire of his battery from the Beaurains Observation Post, was killed by the blast of a shell which exploded nearby. That same evening his unmarked body was recovered, and he is buried now at Agny, south of Arras.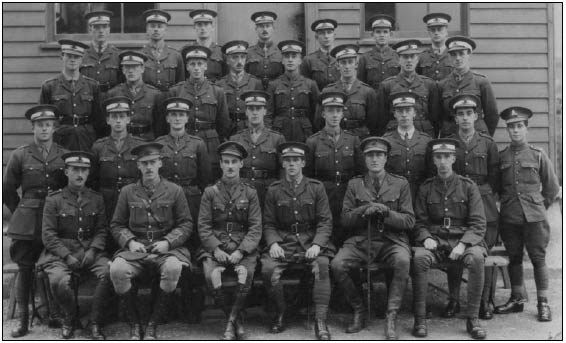 It is possible that Edward Thomas is one of these officers photographed at Trowbridge Barracks, though members of the Edward Thomas Fellowship are naturally reluctant to make a definite identification.
Photograph courtesy of Trowbridge Postcards and Ephemera on Flickr
New members:
We welcome the following new members to the society:
Mr & Mrs Ian Coates, Mr & Mrs Robert Hoskins and Mrs Stephanie Morris
Corporate Member:
The Trowbridge Museum
The memorial, which was unveiled on August 13th, 1921 commemorates the 289 servicemen who lost their lives in the First World War. In 1946 an additional roll of honour was placed on two bronze plaques in remembrance of the 102 servicemen who gave their lives during the Second World War. It is not known what remedial or conservation work was carried out at this time. The sculpture is signed by the artist PG Bentham RBS and the cast was produced and recorded by the Morris Singer Foundry in 1921. The contemporary pedestal is raised on a paved stylobate and is flanked at the base of the monument with a pair of cast concrete tablets that are decorated in low relief with the customary regimental insignia.
Cliveden Conservation was commissioned by Wiltshire County Council to restore and conserve the Trowbridge Park War Memorial. It was repaired in accordance with the Condition Report prepared in April 2012.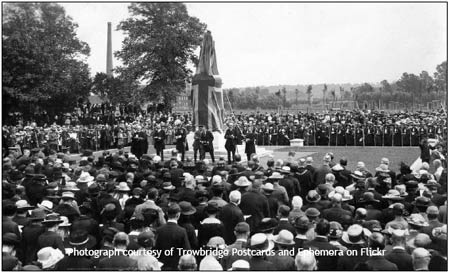 ---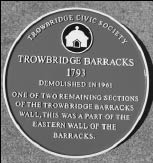 Trowbridge Barracks (illustrated on our front cover) was erected in Bradley Road in 1794 by contractor John Scobell. A troop of cavalry was stationed in building, which housed 4 officers, 58 soldiers of other ranks, 63 horses and had hospital accommodation for 10. The barracks was abandoned after the close of the Napoleonic Wars in 1815. Troops returned to Trowbridge in 1826 and were billeted in the town's inns. This was unpopular and in 1837 a petition demanded that neighbouring towns should share the cost. Six-monthly quartering's in Trowbridge, Bradford upon Avon and Frome were introduced in 1838. Because of the Chartist disturbances 1838-9, the Government decided to provide proper military quarters and bought back the barracks in 1839.
From the late 19th century the barracks housed the Royal Artillery. By 1903 the barracks could hold 150 men; it was extended in the 2nd World War but was later demolished and replaced with housing.
At the end of June the Civic Society is putting a plaque on each of the remaining sections of the barrack's wall. (Above and on front cover).
---
A Nationally-Famous Architectural Dynasty and Their Local Connections - Part V
Thomas Henry Wyatt (1807-1880), brother of Matthew Digby Wyatt, about whom I wrote in the two previous editions of the Newsletter, was no innovator, in contrast to his brother's contributions to our county and beyond. However, his legacy throughout Wiltshire is considerable, cumulatively impressive even today.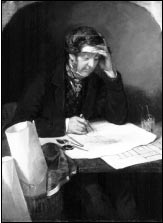 In Pevsner and Cherry's The Buildings of England: Wiltshire, T.H. Wyatt (left) appears in the index no less than 48 times, well ahead of his closest rivals G.E. Street (29) and Butterfield (36). In partnership with David Brandon, Wyatt adds another 11 entries to this total. The Wiltshire Buildings Records list of Architects and Building Craftsmen with Work in Wiltshire puts Wyatt's preeminence in the county even more overwhelmingly, with 74 entries on his own, and another 21 in partnership with David Brandon. According to the Wiltshire Buildings Record, the closest rivals to Wyatt were Charles Ponting, with 71 entries, and then Sir Harold Breakspear (51) and William Butterfield (35). Well regarded in his lifetime, Wyatt's national standing is indicated by his election as President of the Royal Institute of British Architects from 1870-73 and the award of their Royal Gold Medal for Architecture in 1873.
Wyatt's father, Matthew, lived in Rowdeford House, Bromham, and Matthew is said to have designed the house himself in 1812. Thomas Henry was born in County Roscommon, where his father practised as a barrister before becoming a police magistrate for Lambeth. Wyatt's brother, Matthew Digby, was however born at Rowdeford and, as we have seen previously, spent a good deal of his life there. Thomas Henry moved to London in 1825, when his father became magistrate in Lambeth and, after embarking on a career as a merchant, sailing to the Mediterranean, he trained as an architect in the office of Philip Hardwick, where he worked until 1832, when he established an architectural practice at 77 Great Russell Street in London. His marriage to his cousin, Arabella Montagu Wyatt (1807-1875), established his contacts with aristocratic patronage, as she was the second daughter of his uncle Arthur, agent to the Duke of Beaufort. By 1838, he had secured the patronage of the Herbert family in Wiltshire, and had entered into partnership with David Brandon. Wyatt was regarded as a 'safe pair of hands' by the establishment, and worked competently and thoroughly in a range of styles, securing posts as architect with a number of bodies, such as the Institute of Civil Engineers, the Athenaeum Club, the Governesses Benevolent Association, Middlesex Hospital, the Lunacy Commissioners and the Incorporated Church Building Society. His list of achievements is impressive, from churches to theatres, hospitals, grand houses etc, and his work in London included Knightsbridge Barracks and the Adelphi Theatre. He had some presence in Dorset, Somerset and Gloucestershire, with examples of his work also in Monmouthshire through his connections with the Beaufort family.
With regard to Wiltshire, though, his most significant appointment was as the Diocesan Architect for Salisbury, which enabled him to make such an impact on the churches of Wiltshire. Christ Church at Derry Hill, by Wyatt and Brandon (1839) is an attractive example of his early work (No. 2, page 2). Finance came partly, under the auspices of the Church Building Commissioners, from the the Incorporated Society for Promoting the Enlargement, Building and Reparation of Churches and Chapels, but also with money raised locally, and with a significant contribution to pay for the spire from Lord Lansdowne, of Bowood House, as the church was intended for the workers on his estate. Building was started in the same year that the Cambridge Camden Society was formed to 'promote the study of ecclesiastical architecture, and the promotion of church building and restoration'. Christ Church, however, had not been influenced by the 'passionate conviction' (as Chris Brooks calls it) of the ecclesiological movement, which developed from the Camdenians and established 'the architectural conception … of the Anglican church until well into the c.20th&rsqup;, drawing on Pugin's 'True Principles of Pointed or Christian Architecture' of 1841. This light, appealing building still has its short, Georgian-style chancel (right), which has never been replaced, in spite of the Ecclesiologists' view that the True Principles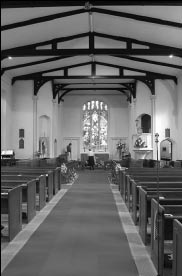 recommended a long chancel, preferably with choir stalls. In addition, the windows would be seen as a Georgian throwback in that they are consistently Perpendicular in style, rather than the recommended 'Second Pointed', i.e. Decorated (to borrow the categories used by Pugin and Rickman). If it were original, the shallow ceiling visible in the picture of the interior would also have been looked upon critically by the Ecclesiologists, as a dishonest attempt to hide the structural members of the roof - possibly with an eye to the comfort of the congregation, rather than the spiritual purity of the architecture. However, the ceiling may be a later addition, as the supporting members in the nave seem different, stylistically, from those of the chancel, lacking as they do the pierced ornamentation in the spandrels. In this church, then, Wyatt gives no indication that he was aware of the architectural and spiritual movement that was brewing, and which would change views of church architecture radically. As always, he was working in a currently fashionable manner, to produce a building which is still pleasing today.
Two years later, in 1841, Wyatt and Brandon were beginning work, supported again by aristocratic patronage (what Brooks calls 'oligarchic funding'), on another church - St Mary and St Nicholas, Wilton (No. 1, page 2), the construction of which was financed, and the choice of style and fittings heavily influenced, by the Herbert family. The round-arch style employed at Wilton was at that time fashionable, but the chosen version was Italianate, rather than what Pevsner describes as the 'resolutely Norman' style of Wyatt's slightly later Holy Trinity at Dilton Marsh (1844). A 'tour de force' in Pevsner's opinion, St Mary and St Nicholas achieved 'international prominence' as the subject of an article in the Allgemeine Bauzeitung, an influential architectural quarterly published in Vienna. According to the Wiltshire Community History section of the Wiltshire Council website, the church 'quickly became a showpiece', requiring the appointment of extra curates to cope with the congregations it was attracting - and those who have visited it will know that it's well worth the journey from Trowbridge.
Wyatt's churches throughout Wiltshire are so numerous that it would be impossible to include them all, although his activities close to Trowbridge included the nave and chancel of St Michael's, Hilperton (1842), and the restoration of St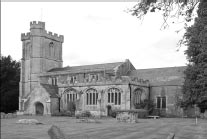 Nicholas, North Bradley, in a convincing Perpendicular style (1862), about which Pevsner comments drily 'much looks quite trustworthy' (Left). These churches take us into the High Victorian period, where the influence of the Ecclesiological Movement was at its height, and the final example of T.H. Wyatt's churches I want to look at combines his capacity for drawing on styles which were in fashion at the time, in buildings made possible by the patronage of the aristocracy.
Once again, Wyatt's connections facilitated the building of a magnificent church - in this case, St Katharine's in Savernake Forest (NO 3, page 2). In Pevsner's view, this is a 'major church', constructed of flint, with a broach tower and transepts providing a balanced and pleasing composition. The church's own website describes it as 'light and spacious', with 'warm Bath stone', 'graceful vaulting and arches' and a 'lovely use of marble and the glowing colours of … Minton tiles'. Of particular note for Pevsner is the richness of the foliage carving by George Howitt of Devizes, stonemason, (Page 10), and the 'remarkable … stone screens with tracery dividing the transepts from the nave' (Opposite). The differences from Christ Church, Derry Hill, show how far Wyatt had come by the 1860s, demonstrating the extent to which he had absorbed the prescriptions of the Ecclesiologists in the lengthy chancel with choir stalls and apsidal end, the muscular timbers of the roof, the richness of ornamentation, the quality of the carving, and the elegant 'Second-Pointed' style of the arches, soaring towards heaven (Above).

With such a range of churches to choose from, it is difficult to do justice to the variety of Wyatt's work in Wiltshire, but wherever in the county we are, we are never far away from one of his buildings and their adoption of the current style, whether it's a modest village church like Hilperton or one of his patronage-facilitated major works, such as St Katharine, or St Mary and St Nicholas. However, he was far more than simply the Diocesan Architect for Salisbury; in the final part of this survey, I shall look at the other types of buildings he designed in Wiltshire and nearby, and their relation to contemporary architectural movements and fashions.
Bibliography
Brooks, C., 1999, The Gothic Revival, London: Phaidon Press
Brooks, C. and Saint, A., 1995, The Victorian Church: Architecture and society, Manchester University Press
Pevsner, N., 1963, The Buildings of England: Wiltshire, London: Penguin Books
Pevsner, N. and Cherry, B., 1975, The Buildings of England: Wiltshire, London: Penguin Books
Slocombe, P.M. (ed), 1996, Architects and Building Craftsmen with Work in Wiltshire, Wiltshire Buildings Record

---
There were two nominations for the awardthis year, the first being Selwood Housing's development on Charles Street, which replaced six subsidence-affected one bedroom bungalows with seven two bedroom homes and two three bedroom properties. More accommodation was therefore provided, with improved off street parking, and with environmental sustainability as an important element in the provision. Externally, the materials integrate well with the surroundings and the design is handsome.
However, although the judges appreciated the many strengths of this development, they were unanimous in their decision that the Enhancement Award should this year go to the St Stephen's Place development, which has brought back to life a derelict site and which provides an encouraging pointer to the future in Trowbridge. Even though the full range of restaurants was not open at the time of judging, the complex already was seen to provide entertainment and the beginnings of a night time economy for Trowbridge, with over a thousand visitors to the cinema alone each day. Architecturally, the complex relates well to its context, and has the potential to form part of a social and cultural hub which may develop around the People's Park, especially if the envisioned enhancement of the River Biss corridor, and a suitable development on the Cradle Bridge / Peter Black site, can come to fruition - and if the inundation of the riverside path (as happened during the winter) can be dealt with. Overall, in spite of their worries about the flooding on the path, the judges felt this development to be a worthy winner, particularly in the way that it can attract to the town visitors from surrounding towns and villages who would not normally have come to Trowbridge.
---
| | |
| --- | --- |
| | On a beautiful May evening the Civic Society was taken round some of the buildings of the village of Bromham. We started outside the pub and meandered round the village looking at some of the interesting buildings, including Battle House and the church. Our guide has lived all his life in the village - 80 years - and so was able to fill us in on some of the interesting details of the place. |
Below is a collection of photos taken on the walk.
The old butcher's shop.
Battle House. It took its name from the Manor of Bromham Battle and Battle Abbey
Members in the grounds of Battle House.
The lock-up, erected in 1809. The building is built into the wall around the parish church of St Nicholas.
Outside the church.
Alabaster tomb.
Memorial to Thomas Moore, poet 1779-1852. Thomas Moore was an Irish poet, singer, songwriter, and entertainer, now best remembered for the lyrics of "The Minstrel Boy&rdquo and "The Last Rose of Summer&rdquo. He was responsible, with John Murray, for burning Lord Byron's memoirs after his death.
Crown Estates mark.
Memorial cross to Thomas Moore
Saxon or Norman church window.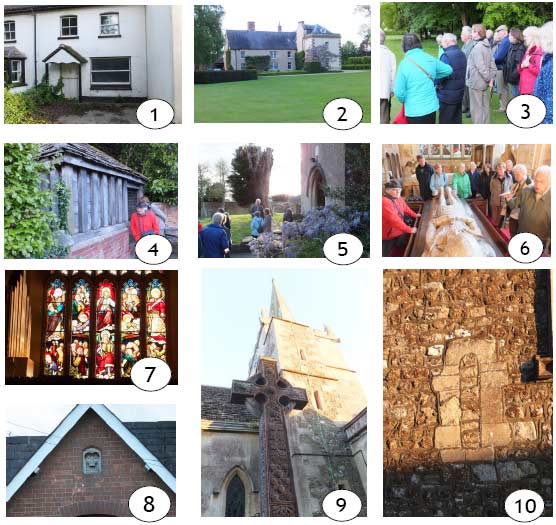 ---
Blue is a popular colour in Trowbridge town centre. Can you spot where these pictures have been taken?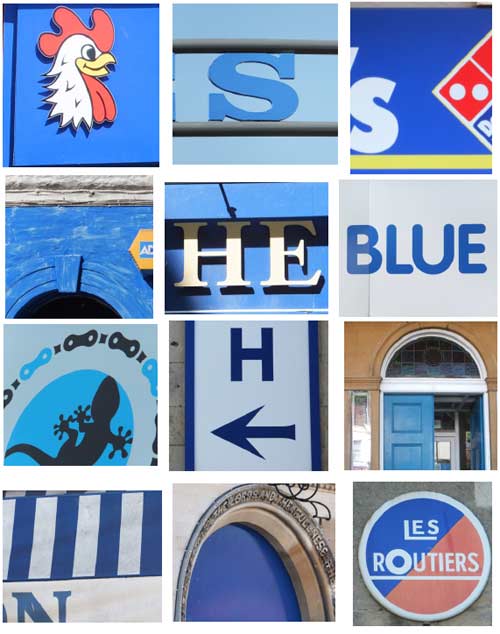 ---