Trowbridge Civic Society

NEWSLETTER

Summer 2013
In this issue:

The Wyatts Part 2

The Bowyers Site

Campaign for a Better
Trowbridge

Zion Baptist Church

Cemetery Open Day

Old Photos of Trowbridge

Member of Wiltshire Building Record, ASHTAV and BALH
Registered Charity Number 276765

Website: www.trowbridgecivicsociety.org.uk
---
Click on the item to go to the article.

We have a rather packed edition this time. Our cover uses two images which I discovered on Flickr. Click here for more details.

After the last issue, Roger Newman reminded me that the date of the photograph of Rose's in the last issue - about May 4th 1923 - was written on the back. In the meantime, I did receive one reply to my query - from John and Kay Austin, former editors of this newsletter: "Clearly not the 1857 Indian mutiny. How about the 1921 uprising by Muslim tenants, the Mappilas, in the Malabar region of south west India. It was put down by British and Gurkha regiments with a great loss of life and no doubt unsavoury incidents on both sides, including the death by heatstroke of a large number of prisoners in a closed railway carriage on their way to prison."

And what is that strange sign on the front cover? This is a QR code. If you are lucky enough to have a smart phone or tablet computer and you scan this code you will be taken to a page of the Civic society's website. Perhaps in the future you might see them around the town on a building or a plaque providing links to more information.

Deadline for copy for the Autumn edition is Friday 30th August
---
Forthcoming Events
2013
Date and Time
Event
Venue or Meeting Point
Tuesday 4th June
19.00
A guided walk around Greenland and Kingston Mills Developments, Bradford on Avon. Led by Derrick Hunt.
Meet at station car park BOA.
Saturday 20th July
15.00-17.00
Cream Tea Afternoon and Bring & Buy. By kind invitation of Mr and Mrs Harry Futcher
79 Frome Road, Trowbridge (parking in nearby roads).
Wednesday 14th August
Leaving approx 08.45
Trip to Bibury (guided tour), Cirencester (free time) and St Mary's Church, Fairford
Click here for details and to reserve
place(s).
Thursday 12th - Saturday 15th September
Various Times
Heritage Open Days
Various sites open.
Details will be added nearer the time
Tuesday 22nd October
19.30
"How Great was Alfred?" - Talk by Martyn Whittock
Haden Room, United Church, Church Street, Trowbridge.
Tuesday 26th November
19.30
PUBLIC LECTURE - "Pub Names of Trowbridge"
by Michael Marshman
Haden Room, United Church, Church Street, Trowbridge.
2014
Date and Time
Event
Venue or Meeting Point
Tuesday 14th January
19.30
New Year Social with Quiz. Please bring a plate of food (if you can) – Drink provided.
Subs for 2014 may be paid this evening.
Assembly Room, United Church, Church Street, Trowbridge.
Tuesday 18th March
19.15
Annual General Meeting and Talk (speaker to be announced
Haden Room, United Church, Church Street, Trowbridge.
To arrange for a lift or to volunteer to car share please contact Glyn on 755784
---
The face of Trowbridge is changing rapidly. Empty town centre sites are being filled with new housing and the hotel and cinemas have filled the old Tesco site. Nevertheless, we still await movement on the Bowyer and Peter Black sites and the smaller but equally prominent Margaret Stancomb site. The outskirts of the town are changing too, spreading even further into the surrounding green fields.
What is of particular concern is the amount of development proposed for the eastern side of Trowbridge see the 'Campaign for a better Trowbridge' article. Is this planned 'urban sprawl' what we really want for our Town?
---
Trowbridge Enhancement Award 2013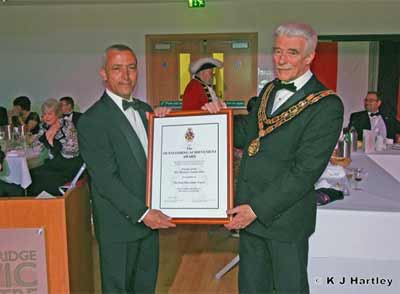 Shari Adabashi receiving the Outstanding Achievement
Award from the Mayor, Councillor John Knight
On Friday 1st February, the judging for this year's Town Enhancement Award took place, which went, after some discussion, to the new extension and library at County Hall. The landscaping and improvements at Biss Meadow Country Park, inspired by The Friends of Biss Meadow, were considered to be close contenders, and in fact were rightly rewarded by the Trowbridge Town Council's Service to the Community Award. The developments at County Hall, however, were considered to be worthy winners.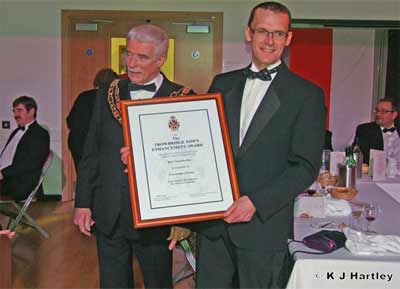 Stephen Brook of Kier Construction receiving the Town Enhancement Award from Councillor John Knight
Architecturally, some may find the external appearance of the link between the 1930s neo-Georgian County Hall and the 1970s extension to be a near-miss, with the colours of the reflective panels not quite working successfully, and the metal crosses supporting the Perspex sides of the ramp detracting fussily from the building behind. Once inside the doors, however, doubts may evaporate.
The atrium is light and welcoming, well used, with a pleasant area for sitting and sipping coffee. The clean lines of the new building contrast effectively with the neo-classicism of the original, and the library itself is a delight. Its comfortable, well-laid out and well-equipped, a pleasure to visit and to use - a real enhancement to the town.
Civic Award Winner - Doug Ross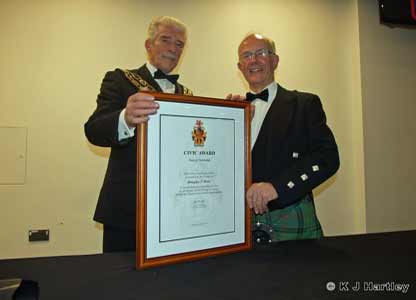 A shortened version of the citation: This person has volunteered their services free of charge for well over 20 years during their spare time, in addition to working part-time, then full-time, and even more so now since retirement over 7 years ago. This person supports the development of Trowbridge, including feedback on the Core Strategy, the Trowbridge Masterplan and the Town Hall proposal. This person has been, and still is, a keen member of Trowbridge Community Area Future, and goes above and beyond coordinating the LINK scheme, from personal telephone calls and home visits, to driving - even giving up Sunday afternoons once a month to transport people who would otherwise not be able to attend the Sunday Club. This person attends all of the Area Board meetings and has been involved with organisations such as the Trowbridge Neighbourhood Partnership and Trowbridge Town Development Partnership, Leer Twinning. This person is part of the Trowbridge Town Initiative, the Biss Meadow and Sensory Garden projects and has also mentored in the past at St. Augustine's Catholic College. This person has used his accountancy knowledge as Treasurer for several organisations which included Wiltshire Racial Equality and Trowbridge/Leer Twinning Association. I'm sure there are other areas of the community that this person has, and still is, helping that are not known but ldquot;at the end of the piece" there is nobody more deserving for this award than the amazing Doug Ross.
---
Since the last Newsletter the following planning decisions have been taken by Wiltshire Council.
The Mead Primary School in Hilperton has been granted permission to erect an extension to provide additional staff and meeting facilities in the form of a two storey building, housing a new staffroom and first - floor meeting rooms for staff and visitors.
Although the property is in a conservation area in Trowbridge and is a listed building, the owners of 13, Fore Street in Trowbridge are to be allowed to replace an existing rear window with a door.
Edward Oatley and Son have been granted permission to convert a poultry house to light industrial use when the egg producing equipment inside reaches the end of its useful life. A firm producing high quality furniture would use the building as a workshop and no alterations to the building itself would be required. Eight extra parking spaces would be provided for the building, which would not be visible from off-site.
Permission for a permanent traveller/gypsy site comprising one mobile home, one dayroom and one touring caravan at Littleton Stables, Semington has been refused because the inspector felt that the need for traveller/gypsy sites has already been met in this part of Wiltshire, hence this site was no longer needed. He also felt that that the dayroom would add to the buildings on the complex and have a detrimental effect on the appearance of the landscape.
Halfords in Bradley Road have been given permission for a new shop front and opening beside the main elevation to provide a separate reception area for the Autocentre side of the business so that customers do not have to go through the main retail area.
Lidl Limited, Canal Road is to be allowed to build a three storey extension to the south west elevation, providing that materials match the original building in texture and colour. The extension would house a new freezer plant and packing area but no extra retail space. Ten parking spaces (none for disabled drivers) will be lost in the process.
Planning permission has been granted for a single storey building to replace a conservatory at 16A Horse Road Hilperton and a two-storey building attached to the front of the original, modern design bungalow. The inspector felt that the changes would improve the appearance of the building, although the second element was large. He felt that the surrounding buildings were varied and that the additions to the bungalow would not have a detrimental effect on the area, also the bungalow is screened by trees and high hedges.
At Semington the lock house is to be updated with a new two storey extension, providing extra living space and a garage to replace the old single storey extension. The design and materials used will be in sympathy with the original house.
Finally, a reminder that planning applications of interest are available for viewing and comment on the Civic Society's web site.
---
| | |
| --- | --- |
| Corporate members: | The Trowbridge Museum. |
New Members:
Welcome to three new members: Mr & Mrs K Hardy,
Mr J Young & Mrs J Jewell and Mr & Mrs S Turpin
---
A Nationally-Famous Architectural Dynasty and Their Local Connections - Part II
In the previous issue of the Newsletter, I sketched out something of the Wyatt family-s national importance, before looking at the achievements of James Wyatt, both in Wiltshire and in the country as a whole, ranging from Castle Coole in County Fermanagh to Fonthill Abbey in Wiltshire and to his renovations of Salisbury Cathedral. In this next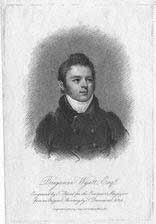 contribution I will consider two further members of the Wyatt family who worked both at a national level and in our own county and environs.
Directly linking with the previous generation of Wyatts, Benjamin Dean Wyatt (1775-1852) was the son of James. He lived at Rowdeford, near Devizes, and achieved some eminence nationally as the Surveyor of Westminster Abbey (1813-27), also designing the Drury Lane Theatre in London (1811). Colvin's Dictionary of English architects, quoted in Architects and Building Craftsmen, damns him with faint praise as a 'very competent architect, but not much imagination'. However, he made one significant contribution to Wiltshire architecture which is still appreciated by thousands, even today. The Market Cross in Devizes (see below) is described by Pevsner as 'handsome, ... (with a) square base, and above a transparent canopy with flying buttresses.' Benjamin Dean is here using gothic forms for picturesque effect, just as his father, James, had done at Fonthill Abbey. In the fashionable Regency Gothic style, the Cross was designed just after Thomas Rickman's attempt to classify Gothic styles in a similar way to the Classical orders, in order to provide Gothic with the scholarly underpinning that would enable it to be seen as a viable alternative to the Classical style.
At the point when Gothic was becoming scholarly, Benjamin Dean draws inspiration for the base from the latest of the medieval Gothic styles, the Perpendicular, as did his contemporaries (e.g. John Pinch and his son in Bath, with St Mary the Virgin, Raby Place, Bathwick of 1817-20 or St Saviour, Larkhall, of 1829-32). However, the canopy above, in Benjamin Dean's Market Cross, has pointed and assertively-cusped arches, far from conventionally Perpendicular, but used for picturesque effect rather than stylistic accuracy - a similar mash-up of styles that we saw in James Wyatt's Fonthill Abbey. The historically-accurate Gothic that developed in later decades was, seemingly, still beyond the grasp of James's son (and many others of the time). However, the work of the two Pinches in Bath stands as a comparison. Pevsner says of St Mary that it is 'a fine Perp Gothic church' and interesting because 'a large-scale, archeologically-leaning Gothic church is rare before 1818.' Pinch, then, although a local practitioner, rather than a national figure, seems to have been reaching for a more historically -accurate style much earlier than an architect like Benjamin Dean, with his London contacts and practice.
Benjamin's cousin, Sir Jeffry Wyatville (1766-1840), was another prominent member of the family, benefiting greatly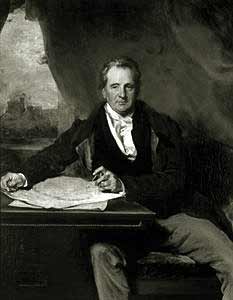 from aristocratic patronage, as had James, with whom he trained as a young man. Although born a Wyatt, Sir Jeffrey Wyattville not only varied the spelling of his name, but added an extra element that seems to hint at aristocratic origins - perhaps to make himself stand out from the extensive tribe of the architectural and artistic Wyatts. His portrait, certainly, shows a very different persona from that which we see in Benjamin Dean's portrait above. Sir Jeffry comes across, in macho pose, as confidently prosperous, a success in his profession, apparently about to sign yet another contract, or working on yet more plans, and with one of his buildings to be glimpsed behind the richly-coloured wall-hanging that forms a backdrop to the composition. He is described by the Wiltshire Buildings Record as a 'competent classical architect, but specialis(ing) in neo-Gothic and "Tudor Collegiate" mansions'. The classical side of his architecture is represented in Wiltshire by Phillips House, Dinton (1814-17), and just across into Somerset, by Claverton Manor, near Bath (1820). Pevsner describes Phillips House as having 'no ornament, hardly any mouldings', with an interior which is 'also very sparing in decoration.' Claverton Manor, however, is described as 'a fine and elegant Palladian villa, rather old-fashioned, except that the piano nobile has been abandoned, and the main rooms are on the ground floor.' At Longleat, his extensive work included the Orangery (1806-13), (see photo page below), and the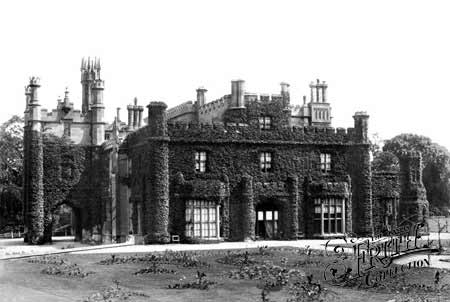 stables (1801-11), which reflected the Elizabethan Renaissance style of the house itself, and suggested the close connections with the aristocracy which served the family so well. Additionally, he rearranged the interior in 1801-11 and rebuilt the North front. The 'Tudor Collegiate' aspect of Sir Jeffrey's Gothic practice was illustrated closer to Trowbridge by Rood Ashton Hall (1808), now demolished. Certainly, the battlemented roofline, tall chimneys, corner towers, arched porte-cochere and other features were referencing the venerable traditions of Oxbridge collegiate building - but Sir Jeffry was on the way to even greater achievements, nationally.

What really put him on the map, architecturally, was his work at Windsor Castle (1824-40), where he lived for many years, and where he died. The early decades of the c19th formed the era of what Chris Brooks called the 'super-castles' - the edifices in Romanesque or Gothic style that were commissioned by the aristocracy across the country.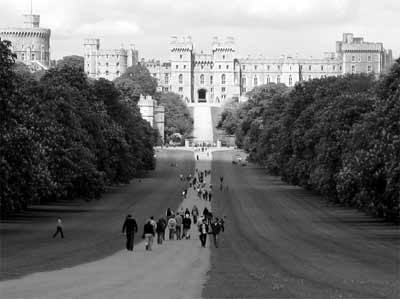 Some examples of this era are James Wyatt's Belvoir Castle in Leicestershire, Thomas Hopper's Penrhyn Castle in Gwynedd, North Wales, or William and John Morrison's Glenarm Castle in County Antrim, Ulster. These castles were country houses, of course, but with a very different meaning from the Classical Bowden Park, or the Gothic Fonthill, both by James Wyatt. Belvoir was, as Chris Brooks points out, 'the first of the super-castles ... (with) martial swagger ... (and a) 'Saxon amalgam of gothic and Norman'. Built at 'a time of instability and hardship for millions of working people' and 'the breakdown of traditional structures of control and social support under the impact of capitalism and the free market in labour' the 'sublime expression of power' embodied in these super-castles 'was purposeful'. They were making a statement to a restless populace, basically saying, 'Our families and our social class have been here for the best part of a thousand years, and if you think you can get rid of us at a time like this, you are very much mistaken. We are here to stay, just as the castles of our Norman forebears showed their intentions.&rsquo Looking at the South facade of Windsor Castle, including the King George IV gateway, as rebuilt by Wyattville, we have a splendid example of what the c19th thought a Romantic medieval castle should look like, in all its irregular, picturesque Gothic pomp. And, as Brooks comments, Windsor was 'the super-castle to top them all', attempting to repair the previous self-inflicted damage to the monarchy through 'inspired propaganda, identifying the monarchy ... with a heavily mythologised version of the country's history.' The reputation of the monarchy had scarcely been lower than it was in the 1820s, but Sir Jeffrey's architectural mythologizing helped set it on the road to recovery - and the recovery was consolidated by George's successor, the young Victoria, and by her consort, Prince Albert, another Germanic import, but one with so much more to offer than most of the previous Hanoverians. It's no wonder the royal family was delighted with the architect they had engaged, and he was knighted by King George IV in 1828. He was buried in St George's Chapel, Windsor Castle, on the 25th February 1840.
His memorial stone is in the north-east corner behind the high altar, and bears this inscription: In the vault beneath are/deposited the remains of/Sir Jeffry Wyatville R.A./under whose direction/the new construction and restoration of the ancient/and royal castle of Windsor/were carried out during the/reigns of George the 4th/William the 4th and of/Her Majesty Queen Victoria/he died February 18th A.D. 1840/in the 74th year of his age
Bibliography
Brooks, C. (1999) The Gothic Revival Phaidon Press
Colvin, H.M. (1954) A Biographical Dictionary of English Architects, 1660-1840 Harvard
Pevsner, N. and Foyle, A. (1958 and 2011) The Buildings of England: Somerset: North and Bristol Yale University Press
Pevsner, N. and Cherry, B. (1975) The Buildings of England: Wiltshire Penguin
Slocombe, P.M. ed (1996) Architects and Building Craftsmen with Work in Wiltshire Wiltshire Buildings Record

---
| | |
| --- | --- |
| New Proposals for the Former Bowyers Site | |
As members of the Civic Society will be aware, new proposals for the former Bowyers Site have been put forward (January 2013). Here is the response submitted by the Society:
The Design and Access Statement gives a sympathetic account of the historical context and Trowbridge's status as the county town. We note with approval how it acknowledges the adverse effects of the Stallard Street widening, the isolation of the railway station from the town and moving the town's centre of gravity through relocation of employment and retail sites along Canal Road and Bradley Road, with consequent reliance on individualised car transport. We approve the awareness of the run-down areas and vacant buildings, even buildings such as the historic 'palaces' (Pevsner) down The Parade. There is an excellent historical account of the site and we note the loss of the cinema, prompting re-planning and re-submission.
We accept the argument put forward for demolition of old brewery and cloth factory, as 'We can see no way to secure grant funding for the repair and conversion of either'. A 'balanced judgement' would therefore support the loss of the cloth factory 'against the secured future of the listed buildings on site, including those referred to in the Conservation Area Character Assessment.' (Design and Access Statement)
We agree that development of the site would 'help link two former retail "dead ends", creating a retail circuit, incorporating the railway station and intended transport hub.' We agree, too, that traffic management should be aimed at making the development and the area more pedestrian friendly, and help create an enhanced entrance to the town: 'The opportunity presented by this site to create a clearly navigable and attractive pedestrian route is bolstered by the potential to create a significant landmark entrance point for Trowbridge, upon the arrival of visitors from the station.' (Design and Access Statement) The comments about traffic management made by Mr David Feather, however, are knowledgeable and need to be addressed.
The plans for renovation of the historic buildings show careful attention to the context and architectural qualities of those buildings, as does the proposal for the Morrison's supermarket. We note, though, that images of the Stallard Street frontage do not seem to be available, and should be provided before the proposal is approved. Overall, we support the proposed development.
---
| | |
| --- | --- |
| Campaign for a Better Trowbridge: | |
As one approaches Trowbridge from the Hilperton side of town there seems to be no end to the building. New housing estates, roads and roundabouts are now occupying our green fields, and there is lot more coming. The Wiltshire Core Strategy, a blue-print for Wiltshire, puts more development in the Trowbridge area than anywhere else in the county, with an additional 6,000 new houses planned between 2006 and 2026 to the south east of the town. Perhaps predictably, Wiltshire's more affluent and picturesque towns are to be the subject of only small-scale expansion. 2,600 new homes, the equivalent of a new town, are proposed for us, in a large new area called Ashton Park. This would cover the countryside going all the way out from the West Ashton Road across to Yarnbrook. No numbers are given for homes on brownfield land in Trowbridge itself, and it is unclear whether any are planned. Brownfield seems less important than greenfield to our planners! New employment is, again, out of town with no 'strategic' allocation of offices in the town centre.
The proposals for massively expanding Trowbridge are to go before Her Majesty's Planning Inspectorate (to see if they are 'sound') at the Examination in Public (EiP) at the Civic Centre, Trowbridge, starting on 7th May, 2013 and finishing on 19th July, 2013. The full programme of EiP Hearings and Inspector's Questions can be viewed on the Wiltshire Council's web site at:
http://www.wiltshire.gov.uk/planning anddevelopment/planningpolicy/wiltshirecorestrategy/wiltshirecorestategyexamination.htm. The Trowbridge session is on 10th July, 2013. Dates may alter if Inspector so decides. Any member of the public can come and watch the proceedings
Campaign for A Better Trowbridge (CfABT) is a group of local people who care passionately about Trowbridge and its environs. We work alongside the Campaign to Protect Rural England (CPRE).
Whilst we are not totally against building sensitively on some greenfield sites, we fear an increase of the "the doughnut effect", a situation whereby a town turns 'inside out' with the centre almost empty, and places where people live and work, outside, on the edge.
Just making Trowbridge bigger has not magically transformed the town in the past. Although Trowbridge is seeing some movement in the right direction (such as the redevelopment of the old Tesco site and Usher's bottling plant) there is still much to do. There is a need thoroughly to update the railway station area, and make it easier and more welcoming for those arriving and walking into town. Then there are several brownfield sites and eye-sores that need sorting out. The River Biss, despite the recommendations of a string of planning consultants, still looks sorry for itself and hardly provides a pleasant river walk through town. When and how will it be improved?
Consultants have been drawing up plans for such improvements for over a decade, but nothing ever happens.
Hope may lie in the new Community Infrastructure Levy (CIL) which developers will soon have to contribute to for every house they build. This can be used more widely in the area than the ordinary section 106 agreements. We are campaigning that the CIL, plus any other developer contributions, are used to directly benefit Trowbridge town centre, rather than being used solely for the large scale road improvements associated with greenfield development, which we fear is the choice favoured by Wiltshire Council. If you are interested in the Campaign for A Better Trowbridge, then please do get in touch by emailing Ken at campaignforbettertrow@hotmail.co.uk. Meanwhile, if you are interested on better planning and preserving the countryside and the vitality of our towns and villages, why not contact the Campaign to Protect Rural England, Lansdowne House, Long Street, Devizes, SN10 1NJ Tel: 01380 722157; Email: admin@cprewiltshire.org.uk. Their website address is www.cprewiltshire.org.uk.
---
January 1813 saw two significant events happen in Trowbridge. They were the birth of Isaac Pitman on the 4th and on the 6th the forming of a new church, Zion Baptist Church. The two events are connected by the fact that Samuel Pitman, the father of Isaac, although an Anglican, was the first Sunday School Superintendent at Zion Sunday School when that was started in 1828. Isaac's Mother was a Baptist. She was baptised in the mill pond at Ladydown by John Warburton, the first pastor of the church in 1824. Isaac himself was a teacher in the Sunday school and in later years often came back to look around the chapel. The church was formed by a group of 41 members who left Back Street Chapel (later Emmanuel) who could not settle under a new minister at Back Street, Richard Davis. The church met to begin with in a first floor room on Wicker Hill now number 5, the building now occupied by Pearson May Chartered Accountants. Zion Chapel in Union Street was opened in June 1816. The previous year John Warburton had become pastor and so many crowded into the room to hear his preaching they had to build a chapel.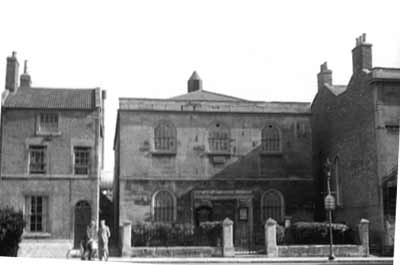 Many events are planned during the year and we hope to take part in the Heritage Open Day on September 28th. We are holding a further Open Day when the building will be open from 12 noon. There will be tours of the building and a bi- centenary historical exhibition. This will be followed by a short service at 3pm which will include a talk on the history of the church by Andrew Jones. The day will finish with a traditional chapel tea. All are welcome but those intending to come to the tea please let Andrew Jones know at adjones66@hotmail.com
A book, Two centuries of Grace a history of Zion Chapel has been written by Andrew Jones. To order please contact David Skull via d_skull@sky.com. It cost £7.50 plus £2.00 P&P if you want it sent out to you. All profits from the book are going to the Trussell Trust.
---
Trowbridge Fair in Victorian Times
Roger Jago's talk, given after the AGM was on the subject of Trowbridge fairs, particularly in late Victorian times. It was often very amusing, especially when Roger read out some of the accounts by local newspaper reporters of fairs. Reporters in those days seemed to delight in writing long, entertaining and tongue-in-cheek accounts.
Trowbridge was given a charter for a fair in 1200 by King John when fairs were mainly for the selling of food, cattle and other goods. The original fair took place over 3 days in July. By Victorian times, although the selling of pigs, cattle, horses and food, especially cheese, was most important, when the fair lost its charter in 1892 it had become mainly an event of entertainment. Roger has researched local newspaper reports to discover what happened at these fairs and how they changed over time. For example, to begin with areas such as Timbrell Street, the Town Bridge and the Parade were the major areas for horse, cattle, pig and cheese auctions. But also at this time there were plenty of other stalls - freak shows, music, theatres, performing animals, boxing booths etc. Gradually, the auctions were less and less popular and uneconomic and the entertainment side took over. One of the most popular shows was the freak show where "disabled" people made a living exhibiting themselves - dwarves, bearded ladies, giants, fat women, even the "man with three legs and four feet". There were coconut shies, Punch and Judy shows, waxworks, shooting galleries and roundabouts. At first these were driven by hand but soon the roundabouts and their organs were steam driven. By the 1890s other attractions had begun to take over - excursions by train, works outings etc and the fair was "abolished" in 1892.
Roger's talk made the fair come alive in our minds. It was thoroughly entertaining, although we did shudder at the thought of live rat eating as entertainment.
Talking of eating, we once again greatly enjoyed Ruth's wonderful biscuits and coffee.
---
| | |
| --- | --- |
| OPEN DAY AT TROWBRIDGE GENERAL CEMETERY | |
Wiltshire Council gave people the chance to explore the beautiful and historic Trowbridge cemetery at its first open day on Saturday 20th April 2013. The cemetery was open from 10am to 3pm, and provided a wealth of information for anyone interested in local history or who has family buried in the cemetery. Refreshments were available throughout the day and there were guided tours of the cemetery grounds and listed chapels, mausoleums and monuments. There was also a picture quiz for children. Visitors were given help to find specific graves and were able to view the burial registers which date back to the first burial in 1802.
The open day also gave visitors the opportunity to see the recently renovated war graves and talk to the council burials team who were on hand to answer questions and offer support and advice.
Also present was a volunteer photographer from the War Graves Photographic Project. This is a volunteer organisation, working in association with the Commonwealth War Graves Commission, to photograph every war grave in the world. This will enable families and researchers to obtain, via their websites, a copy of the photograph of a grave or memorial which for many is impossible to visit. Website: www.twgpp.org
---
| | |
| --- | --- |
| Trowbridge Postcards and Ephemera | |
While searching on the internet for a picture to accompany Roger Newman's article on the Bath and West Show - to be published in the next issue - I discovered a gold mine of old photographs on Flickr. This is an online site where people can display photographs they have taken themselves or ones they own. I discovered a very large collection of old Trowbridge photographs. I asked for permission to use the photograph and received this reply: "I have somewhere between 900-1000 cards. I've been collecting for a few years and have met many other collectors who buy items and then hide them away. I didn't want to do this as history should be available to all, so share the gallery with everyone you can and feel free to leave comments on the pictures.
See if you can help out with some of my 'unidentified' ones! I'm always looking out for the very rare postcards, so keep me in mind if you hear of any and if I buy them they will also be added to the gallery for all to see. Just credit me as 'A Trowbridge Collector'"
http://www.flickr.com/photos/93838966@N02/
Below are a few of those unidentified photos. You can either contact the newsletter editorial team or reply directly to Flickr if you can help. Below is another colour photograph.
Trowbridge Help the Hospital Barrow
Unidentified location with a Trowbridge wagon
Unfortunately the lettering on the cart is mostly concealed by the boy in fron, but 'AN' can be made out.
Where was this and what was the fenced off stone ornament
---
Mike's quiz is about doors in central Trowbridge. See how many you can identify. Click on the plaque below to reveal the answers.
| | |
| --- | --- |
| Can you identify them all? Click on the plaque to reveal the answers - no cheating! | |
---