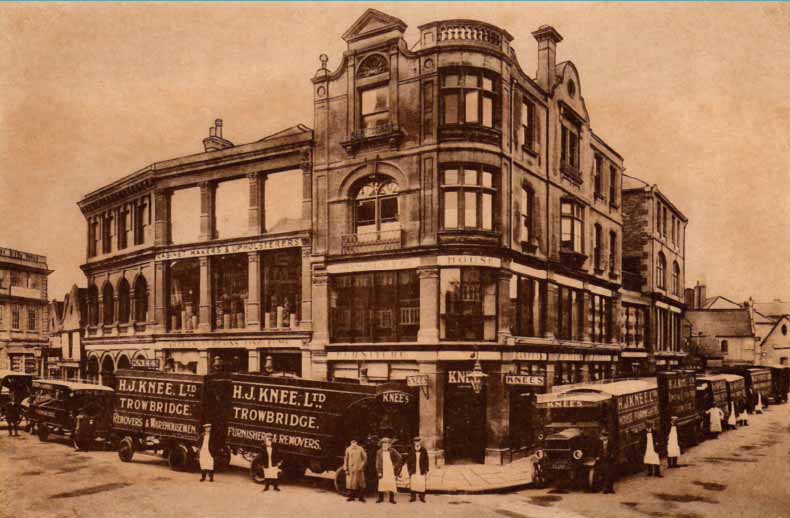 Knees Department Store
Click on the item to go to the article.

One is often asked where one lives. The reaction to my reply of 'Trowbridge' is usually met with a look of disdain or sympathy.
Recently, whilst stewarding at the Iford Arts Opera Festival an opera goer asked that very question. I was delighted to have my answer greeted by 'Trowbridge! Fantastic! We live in Bath and travel to Trowbridge every week to shop, have lunch and potter around – it's wonderful, such a variety of shops and easy parking and access'. Hooray! We Trowbridgians must hold our heads up high and not be put down by folks who know no better.
With the extensive redevelopment taking place, we in the Civic Society must maintain our watching brief of future plans and remember that the Society's aims are to preserve the best from the past and have high quality development for the future. Soon more people will be saying, "You live in Trowbridge? Aren't you lucky!"
Thank you to all who contributed to this edition. We are delighted to receive articles from our membership.

The deadline for our next edition is
14th January 2009.
---
Forthcoming Events
2009
Tuesday 13th January
19:30
New Year Social with Quiz
Bring a plate of food - drink provided
Manvers Hall, United Church
Tuesday 17th March
19:15
Annual General Meeting
followed by a talk from James Elliot, Architect
Manvers Hall, United Church
PLEASE NOTE THAT ALL THESE MEETINGS WILL BE HELD IN THE MANVERS HALL, UNITED CHURCH, CHURCH STREET – Through the arch and the door is straight ahead – no stairs – car park opposite.
---
From the Chairman

Some very good news. The Trowbridge Historic Buildings Joint Committee was set up some years ago by the District and Town Councils to provide grants for owners of listed properties to help and encourage appropriate care and maintenance. This committee was disbanded in 2007 because of the cost of the audit that had been imposed. The Town Council could not continue making grants to private individuals as it did not have the necessary powers.
However, it is sometimes possible to find a way around awkward regulations, and the Civic Society has managed to do so. As we have the necessary expertise, the Society decided to make an application to the Town Council for a grant and I am delighted to report that we have been successful. At the Policy and Resources Committee meeting on 2nd September an all party decision was made to give a grant of £10000 to the Civic Society.
We will now be able to continue the excellent work of the former Historic Buildings Joint Committee through our own planning committee, but with the addition of two Town Council representatives and the District Council Conservation Officer.
Encouraged by this response an application was made to the District Council and, following a very positive telephone call, we hope to receive financial support from them in the future.
It would be interesting to discover whether any other society is doing this already. We will make a report to the Town Council at the end of our first year of operation and if we have been successful we hope to be able to continue this work.
Things are beginning to happen on some of the vacant sites in the town and Margaret Howard gives the details in her update article in this issue. Duke Street is looking better now that the north side has been completed but Trowbridge still has several more gaps that require this kind of treatment.
I visited the Wincanton site recently in an attempt to rescue a 'Haden' manhole cover, one of only three of this particular type in the town. A very helpful site foreman searched in the area of the cover but it seems that it has already been scrapped.
Another loss to the town has been the removal of the painted signs on the former Black Swan (a Grade II building) at the corner of British Row and Adcroft Street. These have recently been erased by sand blasting the exterior. I noticed too that the cast and wrought iron projecting inn sign bracket has also disappeared. The painted signs and the bracket were part of the listing. It is a hard lesson to learn but reinforces the fact that we still need to be extremely vigilant in protecting these small historic elements of our built environment.
Our varied summer activities are reported in our 'Recent Meetings' section.
The Tyntesfield visit was made all the more interesting by the route chosen by our driver. I think some of our members thought we were on a mystery tour. We did, however, manage to arrive at our destination and return to Trowbridge more or less on time.
---
Knees – A Success Story
This year Knees celebrated its centenary as a limited company but for almost thirty years prior to 1908 it grew and flourished under the energy and determination of its founder Henry John Knee (the "Governor&rdquo, 1854 – 1935) initially helped by his brothers Frederick and George.
In 1880 Henry took over his former employer's premises, Chapman's, and opened his first shop, "Complete Furnishers and General Dealers", on the corner of Fore Street and Church Walk (now the site of Game). This shop continued trading, latterly as the Ironmongery Department, until 1934 when it was demolished and rebuilt as Burtons. In 1884 Henry opened another shop selling curtains and fabrics at 21 Fore Street, now Priceless Shoes. This closed auspiciously in 1887, when Henry built his new shop on the corner of Fore Street (no.21, now Thomas Cook Travel on the ground floor) and the newly widened Castle Street. Officially called Knees Emporium, sceptics referred to it as "Knees Folly" – some folly! He had intended living there and if you look at the central sections of the 2nd and 3rd floors on Castle Street you will see the proposed location of the flat. The lower window of the proposed apartment is now very plain but older pictures show a fine oriel window. In the event he did not live over the shop but moved to Rosebank (now the Wiltshire Rural Music School) in Gloucester Road. By about 1894 he had taken over the 1888 building next door in Fore Street which had traded as Burgess for a few brief years (no.22, now Adams on the ground floor).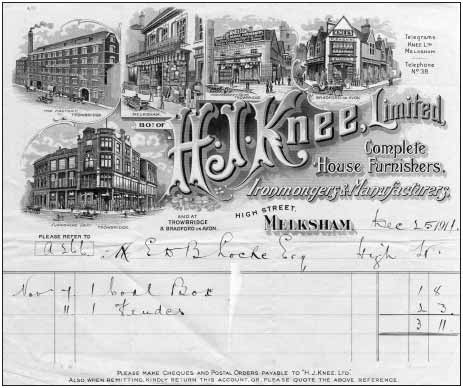 This is an early example in the area of a shop which had really large plate glass windows (now replaced). The date is still just discernible on the capital of the right side pilaster on the 1st floor.
Much later, in 1935, Knees acquired the grand block with arched and columned windows which had been designed and built by William Smith (compare with photographs of the Roundstone Hotel) in about 1864 for Beaven (no.23, now Costa Coffee at street level). "Knees" can still just be made out on the painted sign on the gable. All these properties plus the Castle Factory in Court Street as well as premises in Bradford on Avon and Melksham, appear on the old billheads as shown here. In the 1920's a lift was installed by H O Strong of Bristol in the 1887 building, one of the first in the town. In 1940 a devastating fire destroyed much of Henry's 1887 building, particularly the two bay three storey piece across Red Hat Lane. Long before then however many of the remaining sites on the other side of Red Hat Lane and along Castle Street were acquired and eventually redeveloped.
A major rebuild in 1956 by Knees Building Department was finally completed in the 1980's by Holdaways of Westbury. One significant event was the demolition of the Gaumont Cinema in 1972, which was replaced by a building housing the Richway Supermarket. This building was taken over by Knees in 1976, where we now find the main entrance to the store, next to Boots Opticians.
Prior to all that I remember having to descend wooden steps to a basement (unusual in Trowbridge) to buy nails, wire netting, linseed oil and turpentine etc. This was in the vicinity of the present lift. Somewhere beyond the Gardening Department were some low buildings displaying agricultural goods; milking machines, poultry drinking "fountains" etc. This would have been the area containing the town Pound which was bought by Henry in 1909. Further up Castle Street a three storey late 18th century building housed Knee's dairy goods and their gentlemen's hairdressers, separated from the Penguin fish and chip shop by an archway, originally giving a rear access to the old Woolpack Hotel. Later the hairdressers moved to what is now Sylvester and Macket's third building down Castle Street (no.61).
In 1902 (or 1905) Henry purchased the Castle Factory (now called Andil House) and Brick Factory (known to some as Pike's but officially called Block 10) in Court Street. Pevsner thinks highly of the former which was used as furniture display rooms, offices, upholstery, soft furnishing and cabinet making and French polishing shops with much of the rest, and virtually all the upper floors of Number 10, being used for the Removals and Storage Department. Some lots in the furniture depository were so long in store that at intervals the stacks were dismantled, checked against the inventory, the carpets and rugs were brushed and strewn with naphtha crystals and the lot restacked. Other premises used to store furniture and effects were in the Halve, Ashton Mill, the maltings at Westbury and at the old brickworks site in Canal Road. At 5 the Halve the large warehouse (originally a wool store) was accessed by a shallow flight of wide wooden steps to a large elevated door. The warehouse is long gone but number 5 will be familiar as the former Cousins and Wright's camera and optical workshops, now being restored as a family home. When my father started work at Knees in 1915 the pantechnicons were horse drawn and Albert Barnes, who I remember living in Bradley Road, was the first to be trained to drive the new motorised removal wagon.
Following on from Henry Knee came the redoubtable Hebden (1886–1955), who with Dorothy (unofficially "Dolly" to the staff, 1891 – 1971) lived at Westwood and then later at Red Gables on Hilperton Road. Hebden began to take a major role in Knees from 1908 when it became a limited company. His children were Mr Noel (1913–2005), Mr John (1924–1992) and Miss Joy (1929–1990). The latter married Gerald Holbrow of Bradford on Avon and their son Marcus is now Managing Director and helped me enormously in producing this article. Noel never married and moved out of Red Gables, with his mother, to a new house, Durlston, also on Hilperton Road, in the 1950's. John's children Henry and Peter and their cousin, Jonathan Dyke, are all involved in the company.
One of Hebden's major developments was to enter the motor trade in 1929 with the Fore Street Garage (now Boots) which ran through to emerge in Market Place, as does Boots now. Society Member Clem Maidment spent most of one holiday job in 1960 at Knees Building Department demolishing the garage. Knees were agents for Humber, Hillman and Commer. Knees also took over the Central Garage across the road in 1939 (the gap between HSBC and W H Smith) and again this ran all the way back to emerge in Church Street. This was requisitioned from 1940 to 1946 for making parts for Spitfires. At present the site is being redeveloped. Later there were car showrooms in Castle Street (now the Toy Shop) and petrol pumps with Iris Clarke in attendance. Also in that area there were carpenters' and tin smiths' shops. Hebden Knee Motors also opened businesses in Calne and Chippenham, but his name was not used in this context until after his death. For a time, behind and on the ground floor of Block 10 in Court Street John Knee ran a commercial vehicle workshop which of course serviced all the Knees vehicles, including the big articulated lorry needed to transport large items for John's burgeoning agricultural machinery business, KAM, still in existence, as metal fabricators, at the Ashton Mill site just off the "Tesco" roundabout. In about 1960 KAM linked up with a Bristol company to form Braby Knee Ltd of Trowbridge to further extend the range of machinery offered, particularly silo towers.
One of Noel's groundbreaking moves in 1958 – 1959 was the acquisition of the Court Hall Cafe, from the then owner of St Michael's Mount in Cornwall. This was reincarnated as the Woolpack and eventually transformed into a Berni Inn (now Mastershoe).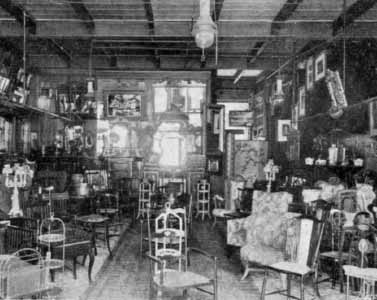 The original Woolpack Hotel in Fore Street was demolished in 1914 and replaced by the Palace Cinema, itself replaced by the Gaumont in 1937.
From 1965 to 1970 Knees Discount Corner (KDC) took over "Parris's" corner (at the junction of Silver and Church Streets) to be followed, until 1973, by Farmer Knee Agricultural and Garden Centre (now Sport Shoe). For a while John's wife ran a business in Bristol called Shirley Knee Fashions which eventually transferred to the main Trowbridge store. Another connection with Bristol was a lucrative trade at Avonmouth docks refurbishing ships' furnishings and fittings.
Outside Trowbridge, shops were opened in 1908 at Bradford on Avon (closed in the 1980's), around the same time in Melksham (closed during the first World War), Warminster High Street (1950's to 2004, now the Factory Shop) and Malmesbury, also 1950's, which is still in existence. In about 1940 Knees took control of Hooper and Dark in Southgate Street, Bath, where my brother and maternal grandfather worked (acrimoniously) at the start of the War. This disappeared with the 1960's redevelopment.
In this article I have described the physical growth of H J Knee Ltd from its beginnings. On a personal note my father, mother and brother worked for Knees and I too joined the work force during school and university vacations. I usually worked for the Removal and Delivery Department, but one summer (about 1961) Jim Nairn (a giant Scotsman) and I converted the old brickworks site on Canal Road to a builders yard. We now know the store for its helpful and friendly staff and huge variety of merchandise. I recently broke the lid of my wife's favourite teapot. She traipsed round Bath for a replacement pot – no joy. Walking home from the station she called in at Knees who duly provided a "spare lid" at no charge! Where else can one get such service?
As well as to Marcus Holbrow I am indebted to Ken Rogers and Roger Newman for access to their papers and research findings. There is an intention to expand this to a more rounded history of Knees and if any reader spots my mistakes (easy I'm sure) or can supply information and illustrations, please get in touch.
---
Planning Matters
Work has started on the Black Swan converting this listed building into 5 flats with 3 terraced houses along Adcroft Street. In the same area consent was given for 12 houses and 12 flats in York Buildings.

St Georges Terrace in Stallard Street is resuming its initial style as residents make changes. Number 33 has permission to replace its office style doors and a cloakroom with internal doors and a family bathroom in keeping with its listed building status. They also wish to add a chimney stack.

In North Bradley permission has been refused to change the status of agriculture land into a campsite. Work on Kings Farm is going well, the farmhouse is completed externally with only internal decorating to be done. Listed building consent has been granted for a detached house on the footprint of a former outhouse even though it is to be 25% bigger. They were refused permission to reconstruct three other outbuildings.

In Hilperton, Scottish and Newcastle Brewery have already acted on the listed building consent to refurbish the lettering and signs outside the Kings Arms and have removed a flat roof porch and infilled a doorway. They have stated that the internal redecoration will be entirely in keeping. In Semington developers were refused permission to redevelop Church Farm, Church Street converting 6 buildings and adding 3 others to provide 29 residential units on the grounds of over development and being out of keeping with the area.

The developer wanted to convert 1 Bradford Road to 7 residential units – in reality it looked like a hostel with 7 bedrooms and other facilities in common. We objected on the grounds of overdevelopment. Permission was refused.

In keeping with the need to use less fuel, Tesco have applied for a glazed lobby. Shoppers are only too aware of the blast of warm air as they enter the store!

More recent applications yet to be decided by WWDC Planning Department include development of land adjacent to Trowle Bridge for offices. We were satisfied with these plans but have asked that the developer use the traditional Trowbridge colour of bricks. WWDC themselves have applied for Local Authority listed building consent for work on the cemetery chapel. As well as internal masonry repairs they wish to decorate the walls and improve the lighting. If you have attended an afternoon funeral on a cold winters day you will understand that this work is long overdue.

Finally WCC have applied for temporary permission to fly the Olympic flag until 30th September 2012, presumably the last day of the London Olympics and Para-olympics.
---
Update on Development Sites
Trowbridge Station Upgrading of facilities is now complete apart from the car parking areas.
Bowyers Factory Site Wiltshire College have agreed in principle to move to the site excluding the listed buildings.
Lesters Garage Showroom Duke Street Work here was progressing well, but the developer has gone into liquidation.
Old Tesco Site The developer Thyian has also gone into liquidation and the site is now owned by a bank. A compulsory purchase order is being pursued by WWDC. I have heard that "Mount Crushmore" is to be reduced in height.
Ushers Bottling Plant and Peter Black Sites The developers for both of these sites have been granted outline planning permission. Neither have been "called in " by the Secretary of State, although it had been thought that she would do so. It is now up to Barton Finch (Ushers Site) which is to include a Sainsburys supermarket, and Parkridge (Peter Black site) with a Waitrose supermarket to submit full detailed plans.
Wincanton Site Demolition and de-contamination work is underway. New Look, Next and Brantano have been signed up for three of the four retail units in what is now called the Shires Gateway project.
Waterside Project Modus Properties have stated that they will be going ahead as planned, except that there will be a delay on the housing element due to the current economic situation.
Primary Care Centre Wiltshire Primary Care Trust hope to submit an outline planning application for the centre plus an extension to Adcroft surgery (for Bradford Road Surgery) before the end of September. At a recent open evening it was pleasing to note the range of services and accommodation that will be included. There will be rooms in the Centre for the other GP surgeries so that their patients will have equal access to the facilities. There will be a wider range of Out Patient clinics than at present, a dental clinic, specialist clinics for disabled patients and spaces for mobile screening and scanners. In addition the Neighbourhood Care Team and Social Care Team will also be based here. We were assured that the financing of this development is not affected by the credit crunch and that it should be operational by 2010, subject to smooth progress through the Planning Department.
---
Horse Road continued
There are four listed houses in the road all on the south side. The oldest is the 16th century thatched cottage in the middle. Weaver's Croft is nearby, built of brick with a Cotswold stone tile roof. The other two are nearer the Trowbridge end; Pound Farm Cottage and Pound Farmhouse built in the 17th century.
St. Mary's Church of 1889, known as the tin church, is on the north side of the road, built for the considerable increase in houses in the area during the 19th century and occupied mostly by workers in the cloth industry.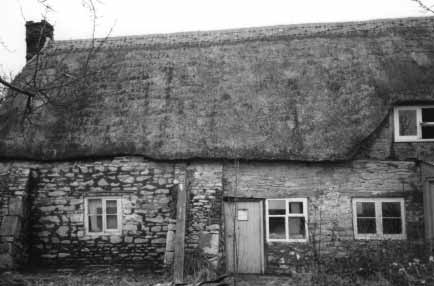 Another reason for the new church was that the walk to Hilperton was not good in poor weather. The Chancel is built of flint but money ran out and the nave was purchased as a 'flat pack' from Harrods of Knightsbridge as a temporary solution. Now it is a landmark and has even been written about in a national newspaper.
I know most about the lane I live in which is different from the other lanes as they are all at right angles to the main road and go straight to the fields. The tithe map of 1817 shows small parcels of land on the edge of Hilperton field system and the common land of 'the marsh'. The map shows the lane with the original three 18th century cottages, only two of which remain, one being mine. There are more houses in our lane than any other. Two date from the 18th century, six from the early 19th century, four from 1901, five from the second half of the 20th century and one from 2007. Four houses have been demolished and one site has had two replacements.
The two original houses each has a well. Mine is stone lined, capped with a large limestone block with a circular hole carved in it but next door's is brick lined which I surmise is later. Ours was re–discovered soon after we moved here when our elderly neighbour looked over the fence and told us we had a well in the middle of the lawn which had been uncovered in the war in case water was needed for fire-fighting. We thought we would like to know where it was rather than have a surprise if it collapsed one day. When it was uncovered we found it had been capped with a large stone slab which had cracked.
My deeds show that in 1841 the house and loan was transferred to Samuel Hart, weaver, from William Richman, weaver, and £31 was borrowed from James Perkins, Gentleman, of Trowbridge. The indenture states:- "A term of
500 years granted of said hereditaments by indenture dated 1780 between James Selfe, Labourer, of the one part and William Culverhouse, baker of the other part at the rent of a peppercorn." From 1780 a succession of tenants was listed as John Gaisford, Joseph Deverall and John Carpenter but by looking at the Hilperton Land Tax register, Charles Bull lived there for a year and also Ann Richman from 1814 to 1828. William Culverhouse owned the house until 1829.
When I moved here there was a ditch on the east side of the lane and posts, as I thought defining the footpath, on the opposite side. I was talking to a person over 90 who told me that the posts were to tie the horses up and there had originally been horizontal cross posts for hitching the horses. Only a few days ago I was also told that there was a ditch on the west side of the lane taking surface water into the fields. Now the posts have been removed to facilitate parking and most of the ditch has been filled in. This has resulted in one property flooding when we have torrential rain.
We have had several interesting neighbours at different times, but one I must mention is Mrs Hilda Wadman. Her husband's family were farming at Stowford and her maiden name was Hobbs. She told me tales of her childhood when her father was coachman to Sir Harold Peto and she lived in the mill cottage. The housekeeper at Iford Manor was Gertie Bridges and Hilda used to help clean the cutlery and sometimes sleep in different bedrooms in the manor to keep the beds aired when the family was away. She swam in the river near the weir and listened to the water going beneath the cottage to lull her to sleep. Later her father became custodian at Farleigh Castle and her mother was the local midwife. She was a very good friend to us and helped a lot in the snows of 1962/63 when I could not get the pram out of the lane for several weeks!
---
I was very interested to read Marion Dutch's article on "Horse Road 50 years ago". 8 Horse Road, the next cottage to that rented by Mr and Mrs Dutch, was my home from the day I was born in August 1946 until we moved to Newleaze, Hilperton in September 1951. My parents were married in January 1938 and rented no. 8 from Linzeys the builders, where my father worked as a plasterer. The cottage was 'closed up' during the war years whilst my father was abroad in the army and my mother returned to live with her parents, returning to the cottage in 1945. The Alders were our neighbours at no. 7; other families were the Westons, Purnells, Blakes and Jones.
I do not know the origin of the 'White City' description for that terrace but assume it was because all the cottages were whitewashed. I too remember the well cultivated gardens extending from the fronts of the cottages to the road. Although I moved to Newleaze aged 5, it was only 'round the corner' from Horse Road and my childhood memories are of a very undeveloped Hilperton Marsh. The triangle formed by Horse Road, Marsh Road and Wyke Road was very rural in the 40's and 50's. Mrs Dutch covered most of it in her article; in addition, there was a wooden bungalow in Horse Road, opposite St Mary's Church. It was the only building between Mr Pike's farm and Chris Stoke's nursery on the corner. Where the road now leads off the Wyke Road roundabout towards Canal Road Trading Estate was another nursery, owned by Mr and Mrs Townsend. On that side of Wyke Road was the Prince of Wales pub, Wyke House – owned by the Hammond family of McCalls Mill, then a part timbered farmhouse and beyond that Victoria Cottages and a petrol station owned by Mr Curtis, who also owned the scrap yard opposite. There was a post office in one of the stone built houses opposite the Kings Arms.
In Marsh Road, halfway along are a pair of old cottages, in the first of which a Miss Hedges ran a small shop from her front room. Near the junction with Horse Road was the Ring of Bells pub. The fields behind the "White City" leading up to Middle Lane and beyond to Hilperton Road (now locally known as the Hilperton Gap) are the only part of Hilperton Marsh and Hilperton not much changed from my childhood, much of which, with my friends, was spent playing in those fields after school and during the holidays.
Graham Pictor

Trowbridge
PS My father's family home was 16 St Thomas's Passage, Trowbridge – this is the only property still standing in the passage.
---
Jessie Whitmarsh, my mother's first cousin, kindly sent me a copy of your Summer 2008 newsletter in which she tells of her reminiscences of Church Walk, Trowbridge. As a boy, I have many memories of visiting her father s shoe shop when I used to come to Trowbridge to stay with my grandparents so I found the article most interesting, especially so as I am a very keen family historian.
My Grandfather, William George CHEVERILL, his father, George Sidney CHEVERILL, and his grandfather, Charles CHEVERILL were all cemetery superintendents at The Down Cemetery, Trowbridge, living at the Cemetery Lodge. My mother was born at the lodge and always said that "she started life in a cemetery and would end up in a cemetery" and I can remember staying at the lodge and riding my trike around the cemetery paths after the war until my grandfather retired in about 1948. My mother often used to relate stories of how she and her brother played as children in the cemetery.
I am writing to you to ask whether your Society has published any articles about The Down Cemetery or whether you know of anybody who is compiling its history? To me, family history is more than just a tree, and I try to find out why people did things and how they lived, hence your article on Church Walk adds background to my research.
Regards


John Price


The Ramblers, Kennylands Road, Sonning Common, Reading. RG4 9JP.
---
Please send your letters to The Editor, TCS Newsletter, 46 St Thomas Road, Trowbridge BA14 8SL or email johnkay.austin@homecall.co.uk
Back to Contents
---
The Civil War, in and around Trowbridge and Steeple Ashton

by K H Rogers
Ken Rogers' latest contribution to the Yellow Book series is concerned to show how the Civil War affected life in Trowbridge and the surrounding villages.
The area under discussion was free from pitched battles and with the advent of the garrison system, large troop movements were unusual. He does examine one encounter between Parliament and the Royalists in detail, namely the Battle of Trowbridge. It was a brief hostile meeting with the Royalist cavalry dispersed to all points of the compass. The course of the war is traced through the history of the garrisons, more particularly the Parliamentary garrison at Great Chalfield. Research through extremely detailed records reveals how the smallest village was taxed and the Holt List shows how the money was spent.
The fall of Devizes in September 1645 effectively ended the war in Wiltshire. With the war virtually over, there were the inevitable scores to settle – some involved fines for delinquency, i.e. giving support to the enemy – others were applications for pensions from injured Parliamentarian troops. With the advent of Non–Conformity, Anglican practices and customs went by the board though the ejected Rector appears to have weathered the storm without too much damage to his traditional faith or personal prosperity.
These examples have been extracted from the wealth of detail in Mr Rogers' study; a fine mixture of close research and richly informed opinion.
The booklet is available from the museum shop, price £4.
---
Although we only "open doors" on the Saturday, for me it starts on the Friday when I have a good clean up and oil the hinges and padlock. Luckily English Landscape were there and cleaned away weeds and rubbish and took away my bag of debris. I suggested they repeat their efforts on the same day next year.
On the day, which was glorious, we had 150 visitors, keeping the guides very busy. One gentleman told me that he had attended a "meeting" between the Trowbridge Knobs and Bradford Gudgeons at Trowle in the 1930's – but they had just talked! Another visitor was the son of one of the masons who had carried out recent repairs.
Several people said they had lived a long time in the town but had never been in the Blind House. Lots of children and young people stopped to look in and seemed really interested in the history of their town. The Mayor, Councillor John Knight, dropped in and he too enjoyed hearing about some of the people from the past. Many asked, "Why can't we lock up the drunk and disorderly here now?" There is no answer to that.
The Society has recently purchased a 'pop-up' gazebo which we used to great effect at Community Spotlight in the Park on 28th June, our Bring and Buy Sale and Heritage Open Day at the Blind House. It measures 3 metres by 3 metres and is easy to assemble.
For a minimum donation of £5 members are welcome to borrow this wonderful item to enhance any garden party or BBQ.
Please contact Glyn Bridges on 755784 to arrange collection

---
Guided Walk of Trowbridge Nature Trail
20th May
Are you having trouble remembering everyday things? If so, you may like to know that there is in Trowbridge Park a Ginkgo biloba or Maidenhair tree. Extracts from the leaves are said to improve the memory. This graceful tree is a survivor from the Jurassic and Cretacious periods, and was introduced to this country from China in the eighteenth century.
In the beautifully maintained Community Sensory Garden, however, it is the London Plane that dominates. It is assumed to be a survivor from the garden of The Limes, a house predating the Town Hall by some 90 years.
Our leaders, John Austin and Clem Maidment, who produced the Nature Trail leaflet, measured the girth and confirmed that the tree is about 200 years old, the theory being that girth increases by about one inch a year. There is a comparable specimen at Mottisfont Abbey, of which the National Trust is justifiably proud. Further measuring was attempted in the park itself, to ascertain the height of two large chestnut trees which are known to date from 1893.
Further ahead we could see Scots Pines; reputedly planted along old drove roads to indicate where water and rest could be found. We moved to the semi-wild countryside alongside the river Biss where we saw many wild flowers and shrubs. An additional pleasure arising from the encouragement of our native plants is the creation of a favourable environment for native insects and birds, whose evening song enhanced our enjoyment of the walk as we glimpsed the White Horse in the distance.
Thank you to our leaders for a most entertaining evening attended by fifteen members. The Trowbridge Nature Trail leaflet, is available in the Trowbridge Information Centre, Museum and Library (and on this website).
---
Who missed a very pleasant Coffee Morning
21st June
Who cares about the weather? I expect when you ceased your slumbers on Saturday June 21st you perhaps thought "not a good morning for coffee at 79 Frome Road"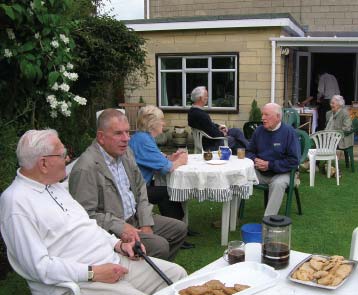 How wrong could you be? The stalwarts amongst us were warmly welcomed by Mr and Mrs Futcher who, ably assisted by their daughter, had gone to considerable time and trouble preparing an excellent array of goodies to accompany our coffee (which we would have liked to have shared with more of you). Here was also an assortment of cakes, preserves and bric a brac for sale.
The pièce de résistance, was the half acre garden which formed a perfect setting for such an event.
No, it did not rain (Oh! Perhaps a little drizzle) and the sun shone occasionally which added to a most interesting and enjoyable morning, if only a few more members had joined us it could have been given a 10+ rating. SO WHO MISSED OUT?
Next year's coffee morning will I am sure be equally as good although at a different venue. Don't miss out if you can help it.

Once again thank you to Harry and Maureen for their hospitality and hard work and the &pound46.50 that was raised for our funds.
---
Guided Walk of Box
23rd July
An idyllic summer evening. Sixteen members of the society are standing beside an unbelievably clear pond in the garden of The Wilderness. This was once a mill pond, fed from two nearby springs.
The Romans were here first and excavations have revealed evidence of a very fine early Roman Villa. Across the road the church, dating from Saxon times was originally dedicated to the Blessed Virgin Mary but later rededicated to St Thomas a Becket.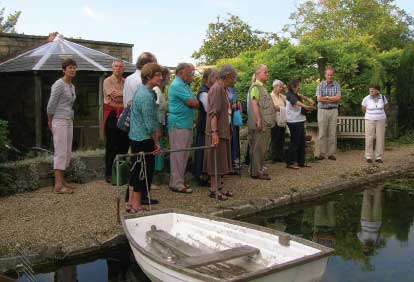 At Box House we are warmly welcomed by Mr Charles Tull with brimming jugfuls of Pimms! Box House was completed in 1808 for the Reverend Doctor Isaac William Webb Horlock, vicar of St Thomas a Becket. After 1874 the house was used in various ways and is now, sympathetically restored, with newly landscaped gardens overlooking the Bybrook valley; this imposing Grade II listed building has a new function as serviced offices.
Out through a gate and through the village, passing many fascinating buildings. We also saw where the Rev. W (Wilbert) Awdry lived as a child, next to the railway. He said he imagined the engines were talking to each other as they laboured up the incline – and we know the rest.
At our last viewing point we can see the entrance to Box Tunnel. This major enterprise, finished in 1841, brought further prosperity to Box. Armies of workers had to be catered for and although some deplored the unrest the navvies were thought to cause, others did well. The candle factory produced one ton of candles a week for the ongoing work. You can see the window from which the workmen received their pay and Highfield House where the foreman lived. Enforced church attendance catered for their spiritual needs.
We returned along an old footpath to the recreation ground, back to the first buildings we saw, a terrace of brick houses. Brick houses – in a stone area – that's odd. "Well, I've got this load of bricks left over from the lining of Box tunnel......?"
Many thanks to our guide Chris Ward assisted by his wife Pam and friend Roger.
---
Bring and Buy
16th August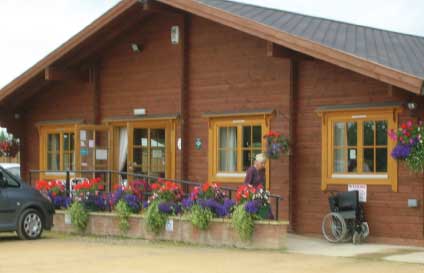 The venue changed this year and for the first time we had the pleasure of setting up our stall in the grounds of SQUIRRELS Restaurant in Southwick Country Park.
The weather was rather changeable being showery and very breezy, after tethering the gazebos we were able to concentrate on the real object of the operation; selling merchandise in varying forms including delicious home–made cakes.
Joy of joys we had plenty of customers; – Society members, friends, and customers of the restaurant. The morning was very successful and the proceeds of £80 were shared with the Hope Nature Trust which was set up to help disadvantaged people and our thanks go to them for hosting such an enjoyable event.
---
Tyntesfield Coach Trip
20th August
Celia Russell organised this very successful follow–up to last year's vastly oversubscribed visit. Despite roadworks and the driver's "scenic route" making us a little late arriving, we were soon issued with timed tickets and in the system. Despite the gloomy weather the house, chapel and grounds were enjoyed by all 44 of us. There is still a huge amount of restoration and infrastructure improvement to be done and hopefully it won't be too long before the tour includes the upper floors.
---
Guided Walk around Freshford
1st September
Despite the dismal weather 17 members met at St Peter's Church and thoroughly enjoyed a guided walk through this charming village.
Dr Alan Dodge gave his introductory talk in the comfort of the church, and we learned of a hill fort, Roman villa and a thriving cloth industry. The church contains many memorials and we were especially interested in those of the Bythesea family from Trowbridge. From the churchyard, with its 1000 year old yew tree, we could see below us the old brewery, the maltings and three vicarages – two now being private homes. The Maltings had been converted into a private dwelling by the late Jeremy Fry, architect, and famously friend of Princess Margaret. One of the rooms is apparently 80 feet long! We walked down the hill, passing the tiny fire engine house and on what was the original main road we passed another ex–brewery and pub. This road was superseded by a turnpike road but with the advent of SATNAV motorists are now being stuck as they try to pass through on what is not much more than a lane.
We passed the surgery, originally a teetotal cafe, reading rooms and lodging house to go back up the hill where we could see the lights of the village hall twinkling in the distance. By now the night had closed in and a soft rain was falling. Nevertheless we viewed more delightful houses and walked on to look at the New Inn (from the outside!).
It was a shame that the weather let us down as Dr Dodge was a most knowledgeable and interesting guide, and we are indebted to him for brightening such a gloomy night and we all agreed that we MUST return and retrace our steps when the sun is shining.
---
New Members
Mr & Mrs Bremner, Mr Bob Bryce, Gill Dobroczynski, Jackie Dowell, Rev Liz Gifford, Mr & Mrs Hedges, Mr & Mrs Ludlow, Penelope Williamson.
---
©Trowbridge Civic Society 2008
---